NEW SHARADA RESIDENCY
Built on the theme of River bed, and flanked on one side by the river Cauvery is the beautiful Sharada Resort. Which is in front of a channel bridge.It is 140 kms from Bangalore and is just 8 kms from the heritage city Mysore. One can relax and enjoy his stay in the resort after witnessing the beautiful famous Brindavan Gardens which is just 9 kms also one can visit the famous Bird Sanctuary and one can enjoy the scenic beauty of Balmuri falls which are as near as 4 kms.After the enchanting stay at the resort one can again witness the divine presence of the lord at Srirangapatna which is just 7 kms.
Place to Visit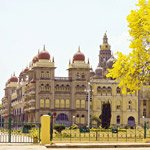 Mysore Palace is a gem of regal heritage, enchanting visitors with architecture, dating back to late nineteenth and early twentieth century of Indo-Saracenic designs. A spectacular light show illuminates Mysore palace on Sundays, public holidays and during the Dasara celebrations when 97,000 electric light bulbs are switched on. Located at Sayyaji Rao Rd, Mysuru, Karnataka 570001, south India. Visitors can embark on a journey through Mysore's heritage during the week between 10am and 5.30pm.
Mysore Zoo, officially known as Sri Chamarajendra Zoological Gardens is home to a sanctuary of 168 species of wildlife fauna from India and botanical beauty, spreading across a 157-acres (64 ha) of lush greenery. It is one of the oldest and most popular zoos in south India. A great day of exploration for wildlife and nature enthusiasts,as activities will keep you and your family entertained.
Mysore Zoo is dependent on entry fees to finance the running of the centre, however an improved adoption scheme introduced in the early year of 2000 has been a success, welcoming celebrities, institutions, and animal lovers to contribute directly to the welfare of the zoo inmates. Visit Mysuru Zoo at Sri Chamarajendra Zoological Gardens, Indiranagar, Mysuru, Karnataka 570010, India, open between 08:30 – 5:30 pm.
KRS dam built in 1932,is located 12kms from northwest of mysore. The project was designed by foresighted engineer sir M Vishveshwarya and constructed during the rule of Krishnaraja wadiyar IV.The dam is around 8600ft. long and 130ft. height with a reservoir spread over an area of 13osq.kms.It represents a marvel of civil engineer achievements in pre-independence India and was among the first in the world to use automatic sluice gates. There is a boating pond to across the dam from the south bank to the north bank and the northern edge are the dancing fountains the beautiful Brindavan gardens is located just below the KRS dam.